Hey Guys its that time again.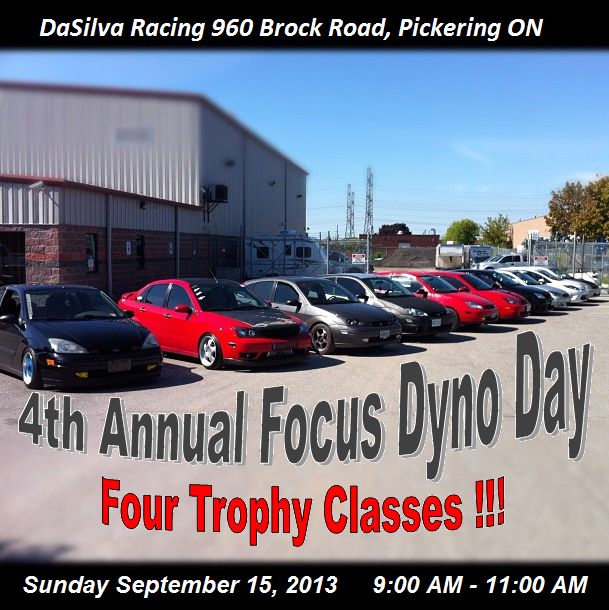 4th Annual Dyno Day
When: Sept. 15, 2013 9 AM - 11 AM (Approx)
Where: DaSilva Racing 960 Brock Road, Pickering ON
Day Of Cost: $60
Pre-registration: $20 Deposit Prior to Sept 1, 2013 $35 Day Of
Dyno: Two Wheel Dyno Jet. Sorry AWD guys.
Two pulls with air/fuel With your best run printed out.
Register Here !!!
Trophy Classes:
Highest WHP Boosted Focus
Highest WHP All Motor Modified Focus
Focus on Instagram Wildcard (to be determined)
Slocus Lowest Modified Focus WHP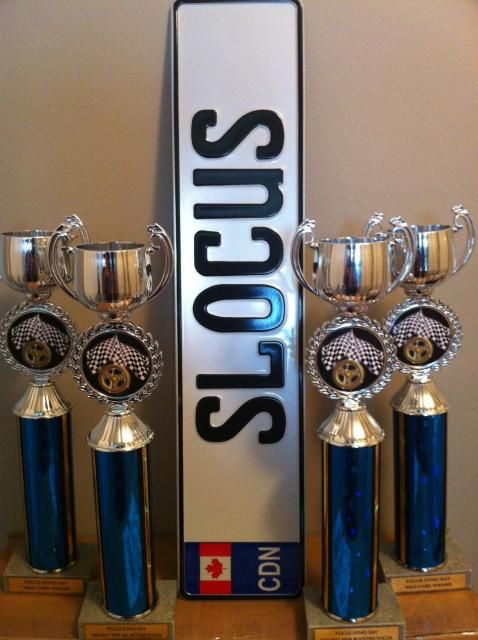 Event is confirmed. Pre-registration is Closed
To pre-register you can pay $20 Cash to John (Scorcher) at the massiv meets. I will also accept paypal to dru_zx3@hotmail.com. Make sure to mention your user name and please cover any fee's. Then register with eventbrite as paid cash deposit.
You can also register directly at eventbrite but the fee is a little higher than paypal if you send it as a gift but cheaper than if you send it normally. The deposit option at $20 plus $1.49 fees and pay $35 cash day of.
If you just want to get it over with, you can pay in full at $55 plus fee's and just show up on Dyno Day
Online ticket sales are now up See link above. Pre-registration will close on Sept. 1, 2013 at 12:00 PM. So I can prepare for the event. Anything received after that will have to pay the day of cash price.
Price has gone up a bit since I'll be purchasing actual trophy's for the event.
I'm hoping to get over 25 cars this year. I'll also be inviting TM3 and Focus ST.org and advertising on Focus on Instagram Let's get a huge turnout. Feel free to invite your non-focus friends.
Colony Ford has confirmed that they will bringing out one of their Colony Custom Vehicles to put on display.
Also Oak-land Ford is lending me a brand new Focus. I'll be taking a lot of video's and they will be posting it up on their facebook Page.
Previous Results:
2012 Dyno Day Results
2011 Dyno Day Results
2010 Dyno Day Results
*I can process a refund minus fee's if you register and then have to cancel but please let me know prior to Sept. 14, 2013 or it will be too late*
I've included a Poll, If your interested in coming out make sure to vote. Thanks Dru
DruZX3 You Tube Page
My Rides on Car Domain
2001 Ford Focus ZX3 - Daily Driver
2008 Lincoln MKX Limited Edition - Grocery Getter
2007 Suzuki GSXR 600 - Rode and Sold
2004 Jeep Liberty Renegade - Offroaded and Sold
2008 Jeep Wrangler Unlimited X - R.I.P. Electrical Fire
2000 Ford Focus ZX3 - Traded in Now DrunkinMonkeys Car
2003 Ford Taurus Wagon - Inherited Drove and Sold
2000 Ford Focus ZX3 Turbo - Award Winning 336 WHP - Parted and Scraped
1990 Ford Festiva - My 1st Car