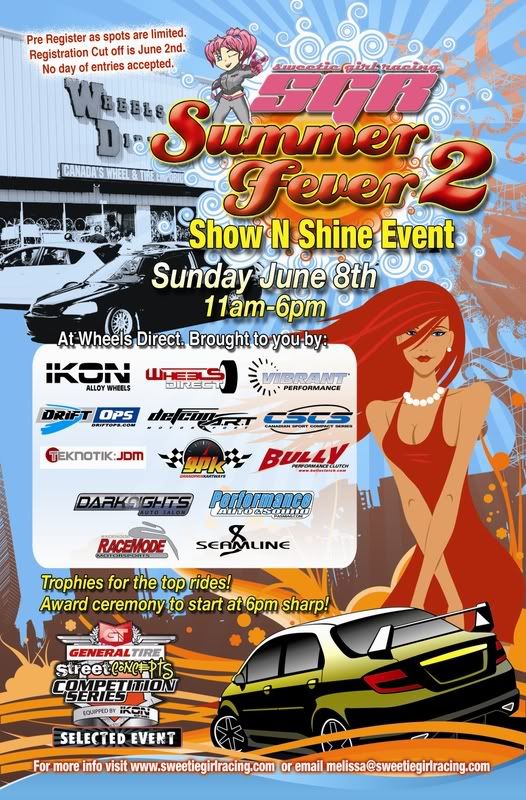 Sweetie Girl Racing is back hosting our 2nd Annual Summer Fever Show N' Shine Event on Sunday June 8, 2008 from 11am-6pm at Wheels Direct.
Don't miss one of the best outdoor Show 'N' Shine events hosted by Sweetie Girl Racing and Wheels Direct! Summer Fever 2 promises to be even BIGGER and BADDER with more Hot Rides, Exhibitors, Spectators and more hardware to give out! This event has once again been selected to be a part of the STREET CONCEPTS COMPETITION SERIES. This event is designed for the car enthusiast... by car enthusiasts! It is a great way to bring the hottest cars in the scene along with many of the industry's leaders together to interact as a community. In conjunction with SGR Summer Fever, Wheels Direct will be having a Customer Appreciation BBQ along with a HUGE blow out sale inside their Retail Store. Last year's event was a SELL OUT! Limited spaces are available so please remember to register early to guarantee your spot at the show.
When:
June 8, 2008 from 11.00am to 6.00pm (Award Ceremony will begin at 6.00pm)
Where:
Wheels Direct - 4753 Sheppard Avenue East Scarborough.
Registration:
Vehicle Registration (all classes) - $20.00 per vehicle
Car Club Registrations of 8 or more vehicles – $15.00 per vehicle
Spectators - FREE!
Registration payment, award classes, and other information are available at
www.sweetiegirlracing.com
. If you have any questions, please don't hesitate to contact Melissa at
Melissa@sweetiegirlracing.com
Thanks
DruZX3 You Tube Page
My Rides on Car Domain
2001 Ford Focus ZX3 - Daily Driver
2008 Lincoln MKX Limited Edition - Grocery Getter
2007 Suzuki GSXR 600 - Rode and Sold
2004 Jeep Liberty Renegade - Offroaded and Sold
2008 Jeep Wrangler Unlimited X - R.I.P. Electrical Fire
2000 Ford Focus ZX3 - Traded in Now DrunkinMonkeys Car
2003 Ford Taurus Wagon - Inherited Drove and Sold
2000 Ford Focus ZX3 Turbo - Award Winning 336 WHP - Parted and Scraped
1990 Ford Festiva - My 1st Car